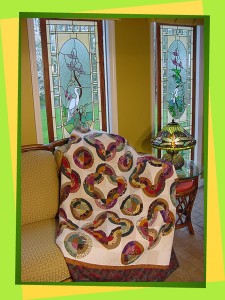 I inherited an obsession with fabric, color, and textures, from my mother, a former tailor, who taught me to sew before I entered kindergarten. Throughout school, I loved math, and ended up with a Bachelor of Science degree with a double major in Accounting and Finance. An accountant by day, my strong attention to detail and love of geometric design, carries over to my two artistic passions: stained glass and quilting. I have been doing both for over thirty years.
I like to incorporate appliqué in my full-size quilts and wall hangings, and have won awards for my appliquéd work. But the smaller the pattern, the more difficult it is to hand appliqué. Flower pounding is great for miniature detailed leaves (like a fern) and using this technique for the flowers. It is also great for color variation and creating a hand painted "watercolor" effect. To begin, I chemically treat muslin, then pound the pigment from real flowers into the fabric, which is later sewn into a wall hanging, pillows, etc. Once the top is assembled, I free motion machine quilt it. In 2002, my flower pounded quilts were juried and accepted by the KY Crafted.
In 1999, I made a 50th Wedding Anniversary photo transfer quilt, which later won several awards. Thinking of ways to use similar techniques to wholesale a quilted wall hanging when family photos wouldn't be appropriate, I decided to combine traditional quilting with a contemporary technique of photo transfer by digitally enhancing photographs of flowers, floral arrangements, etc. After taking a digital photograph of a flower, the photo is enhanced using different computer modified effects. The various enhanced photos are transferred to chemically treated fabric, required to make the photos colorfast. The various photos are then designed into a quilted wall hanging. The quilt is assembled with highest quality quilting materials, and free motion machined quilted. These photo enhanced quilts, as well as a "raw edge" quilting technique, were juried and accepted by the KY Crafted.
My quilts range in size from wall hangings to bed coverings. My quilting techniques may also be constructed into pillows, purses, and book covers. My work often incorporates traditional blocks into contemporary design.