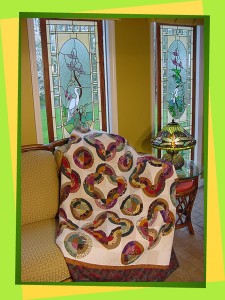 Over four decades of experience as a manufacturing-industry accounting professional have inspired the artist to devise works that are as functional as they are visually stunning. Many of her creations serve dual-purposes, elevating commonplace objects to maximize the joy they bring to those in their presence. She believes that creating practical, often wearable, objects improves the accessibility of art to everyone, allowing them to momentarily escape the monotony of daily life.
Creating these works also liberates the artist from the exacting specifications and arithmetic precision demanded by her occupation. She looks to nature for inspiration but applies an extraordinary, whimsical twist that incorporates astonishing colors and unique textures. The artist has been a juried member of the Kentucky Arts Council in fiber arts since 2001, for her work with quilts. All of her pieces bring together concepts and materials from the other mediums with which she works: quilts, stained glass, fiber felting, paint, and wire.
Regardless of the medium, the artist explores all three dimensions of geometric space, creating works that literally jump out at the audience. Going beyond pure aesthetics, she devises rich multi-sensory experiences by incorporating sound and touch into the works. Many of her works include components designed to move and flow with their environment, capturing or reflecting light in a new way at every glance.
| | |
| --- | --- |
| | |